Irminio River Reserve (EUAP0379)
Street View (if present)
Street View is only available with Google Maps.
Irminio River Reserve (EUAP0379)
Site type
RNSB extension = Special Biological Nature Reserve
WDPA / EUAP Codes: 161994 / EUAP0379
Former Provinces concerned: Ragusa
Municipalities concerned: Ragusa, Scicli
Managing Body: Former Regional Province of Ragusa
Related Natura 2000 sites
Description
The Reserve was established with the Regional Territory and Environment Department Decree n.241 of 7 June 1985. The reserve, affects the area located at the mouth of the Irminio river, falls within the municipalities of Ragusa and Scicli and has an extension of about 130 hectares between the reserve area (zone A) and the pre-reserve area (zone B). There is a Visitor Center located in the Casale which houses a small Naturalistic Museum.
The territory consists of a coastal area overlooking the Mediterranean Sea with sandy coasts but also with cliffs overhanging the sea.
The flora is mainly made up of Mediterranean scrub and has a rather vast collection of vegetation in which the following species are distinguished: mastic, maritime limestone, sea lily, salsola, radish, ephedra, juniper. insular holy thorn, marsh reed, prickly rush, tamarisk, and many others.
Along the banks of the river, which has a torrential course, tall trees can be found making up the forest referred to in the name of the reserve. The most common plants are poplar and willow as well as some eucalyptus. The small cliffs sloping down to the sea are populated by agave, dwarf palm.
| | | | |
| --- | --- | --- | --- |
| Mastic | Tricklewalker | Sea lily | salsa |
| Rake | Ephedra | Juniper | Insular holy plug |
| Swamp straw | Prickly rush | Tamarisk | Dwarf palm |
Fauna.
The fauna consists, for the most part, of migratory birds that use the reserve as a resting area during the migration from Africa to northern Europe and vice versa.

Among some of the species reported: the Kingfisher, the Gray Heron, the Cormorant, the Little Egret, the Marzaiola, the Moorhen, the Coot, the Knight of Italy, the Hoopoe, the Bee-eater, the yellow wagtail, the white wagtail, the buzzard, the marsh harrier.
There are also reptiles: the leopard snake, the snake, the water snake, the green lizard.
Among the amphibians are reported the green frog, the toad.
For mammals there is the Fox, the Rabbit, the Weasel, the Marten.
| | | | |
| --- | --- | --- | --- |
| Gray heron | White dancer | Yellow ballerina | Knight of Italy |
| Cormorant | Marsh harrier | Coot | Moorhen |
| Little Egret | Bee-eater | Kingfisher | Garganey |
| Buzzard | Hoopoe | Snake | Water snake |
| Leopard snake | Weasel | Marten | Green lizard |
Recent is the introduction of specimens of Nutria and Boar.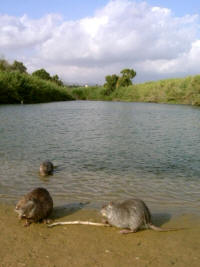 Documents and Links
Modification of the perimeter of the nature reserve
Send a notice to the publisher
[contact-form-7 id="18385"]