Pantalica: Necropolis of Cavetta
Pantalica: Necropolis of Cavetta
Archaeological site falling within the archaeological area of Pantalica
Cavetta necropolis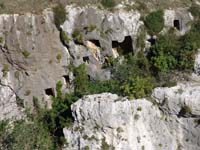 Continuing on the asphalted road, leaving the path on the right to reach the Anaktoron, about 1,9 km from the saddle of Filipporto you will reach a bridge over a small valley (the Cavetta), from the sides pierced by caves of houses of the Byzantine age. Before the bridge, a path to the right, heading east along the right side of the valley, reaches, in approx. 350 m, the Cavetta viewpoint; from here you have a beautiful view, below, towards the confluence of the Cavetta with the Anapo where the very high rocky walls, almost vertical, are pierced by very dense groups of tombs, which form the necropolis of Cavetta, from the XNUMXth-XNUMXth century BC with about 350 tombs.
View all sites of Pantalica
Card insertion: Ignazio Caloggero
Photo: Ignazio Caloggero
Information contributions: Ignazio Caloggero, Web
Note: The populating of the files of the Heritage database proceeds in incremental phases: cataloging, georeferencing, insertion of information and images. The cultural property in question has been cataloged, georeferenced and the first information entered. In order to enrich the information content, further contributions are welcome, if you wish you can contribute through our area "Your Contributions"
Click to see on Google Maps
Send a notice to the publisher