Pantalica: Cave of the Bats
Pantalica: Cave of the Bats
Archaeological site falling within the archaeological area of Pantalica
Cave of the Bats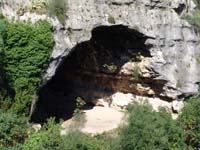 At the end of the asphalted road, there is an additional parking for cars (North Parking), from here it is possible to take a path that descends towards the Calcinara valley, opposite, on the other side of the Calcinara, the Grotta dei Pipistrelli is visible, more easily accessible from the Sortino side. The Grotta dei Pipistrelli is the largest natural cavity in Pantalica. The cave was once used for the production of saltpetre and for the collection of bat manure. The first large room is 18 meters wide, 28 meters long and 11 meters high. Inside there is a narrow passage that forms a sort of corridor 12 meters long, with muddy soil and walls full of encrustations; crossing this corridor you enter another large room, very dark, 68 meters long and 30 high, where hundreds of bats nest from which the cave got its name: "A Rutta re Gaddariti".
View all sites of Pantalica
Card insertion: Ignazio Caloggero
Photo: Ignazio Caloggero
Information contributions: Ignazio Caloggero, Web
Note: The populating of the files of the Heritage database proceeds in incremental phases: cataloging, georeferencing, insertion of information and images. The cultural property in question has been cataloged, georeferenced and the first information entered. In order to enrich the information content, further contributions are welcome, if you wish you can contribute through our area "Your Contributions"
Click to see on Google Maps
Send a notice to the publisher