Pantalica: Church of S. Nicolicchio
Street View (if present)
Street View is only available with Google Maps.
Pantalica: Church of S. Nicolicchio
Archaeological site falling within the archaeological area of Pantalica
Church of S. Nicolicchio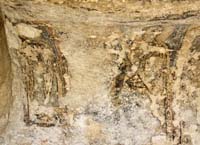 Following the path towards the southeast, after about 100 m, you will find the Byzantine rock church of S. Nicolicchio. The rupestrian room is configured as an oratory with a rather complex plan. It is made up of the unification of several rooms (probably excavated in different eras), which are secondary to the main room that develops towards the east where it ends with a central apse and two small niches on either side of it. Unfortunately much of the decorative apparatus has been lost, from the surviving traces we can recognize the figures of Saint Helena and Saint Stephen and of an unidentifiable Saint. Regarding the dating of these frescoes, however, there are not a few problems of a historical and stylistic nature; Lamb and Messina, however, precisely by analyzing a certain stiffness and dryness in the way of rendering the drapery, suggest recognizing in these frescoes the most ancient testimonies of rock painting in Syracuse (VII century).
View all sites of Pantalica
Card insertion: Ignatius Caloggero
Photo: Ignazio Caloggero
Information contributions: Ignazio Caloggero, Web
Note: The populating of the files of the Heritage database proceeds in incremental phases: cataloging, georeferencing, insertion of information and images. The cultural property in question has been cataloged, georeferenced and the first information entered. In order to enrich the information content, further contributions are welcome, if you wish you can contribute through our area "Your Contributions"
Send a notice to the publisher
[contact-form-7 id="18385"]