Smart Palace
Smart Palace.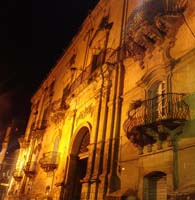 In Via Cavour 48 behind the Cathedral of S. Nicolò. The façade is characterized by a large arched portal with a fine high relief on the top framed by elegant ashlar pillars. The baroque balconies are closed by the classic rounded wrought iron railings.
Under the building there is a bomb shelter
In-depth article:
Noto, inaugurated the renovated anti-aircraft shelter of Palazzo Astuto
Card insertion: Ignatius Caloggero
Photo: web
Information contributions: Ignazio Caloggero, Web
Note: The populating of the files of the Heritage database proceeds in incremental phases: cataloging, georeferencing, insertion of information and images. The cultural property in question has been cataloged, georeferenced and the first information entered. In order to enrich the information content, further contributions are welcome, if you wish you can contribute through our area "Your Contributions"
Click to see on Google Maps
Send a notice to the publisher
[contact-form-7 id="18385"]