Church of S. Francesco d'Assisi and the Porto and Riporto Chapel
Church of S. Francesco d'Assisi and the Porto and Riporto Chapel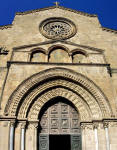 Piazza S. Francesco d'Assisi. Erected in the thirteenth century. Transformations in the following centuries up to the nineteenth century. . From the most ancient construction phases dating back to the thirteenth century we pass to the fourteenth and fifteenth centuries, when the portals and numerous chapels in Gothic or Renaissance style were erected. In the Baroque period the building was covered with stuccos and frescoes (by Pietro Novelli) and in the eighteenth century Giacomo Serpotta adorned the pillars with the statues of the Virtues. Wounded by the earthquake of 1823, it was restored according to the neoclassical style, while in the twentieth century the original appearance of the facade was brought to light with the reconstruction in style of the lost rose window. The interior, with the basilica room marked by pointed arches on pillars, is embellished with sixteen chapels that house works of art of inestimable value. In the chapel of San Giuseppe there is a high relief with San Giorgio killing the dragon, made in 1526 by Antonello Gagini. The colors of the seventeenth-century polychrome marbles shine in the chapel of the Immaculate Conception. The sarcophagus of Atanasio Speciale, of uncertain attribution between Domenico Gagini and Francesco Laurana, is placed in the fourteenth-century chapel introduced by a portal of splendid workmanship. Particularly important is the Mastrantonio del Laurana Chapel which bursts with Renaissance forms in a Sicilian climate that is still late-Gothic in the mid-fifteenth century (1468).
Chapel of Porto and Riporto
The Porto e Riporto Chapel is located inside the Convent of S. Francesco d'Assisi annexed to the Basilica of San Francesco d'Assisi. Its construction dates back to the fourteenth century, inside there is a canvas depicting St. Rocco from the seventeenth century. Attributed to Mariano Smiriglio. The chapel is the seat of the Confraternity of the Port and Riporto di Maria SS. Immaculate. The confreres of this congregation undertake to "carry - on their shoulders - the Simulacrum of our Immaculate Lady through the city streets in triumph and bring it back to the Basilica of San Francesco d'Assisi. (hence the name of Porto and Riporto)
Crypt.
In-depth study: Pietro Todaro: The subsoil of Palermo - 1988. Downloadable at the following ACCADEMIA.EDU address: https://www.academia.edu/6581858/Il_Sottosuolo_di_Palermo
Card insertion: Ignatius Caloggero
Photo: Ignazio Caloggero
Information contributions: Ignazio Caloggero, Web
Note: The populating of the files of the Heritage database proceeds in incremental phases: cataloging, georeferencing, insertion of information and images. The cultural property in question has been cataloged, georeferenced and the first information entered. In order to enrich the information content, further contributions are welcome, if you wish you can contribute through our area "Your Contributions"
Click to see on Google Maps
Send a notice to the publisher
[contact-form-7 id="18385"]