Church of S. Domenico - Palermo
Church of S. Domenico - Palermo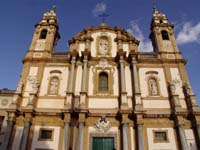 S. Domenico square. The church was built in 1458 and 1480 in Renaissance style, but the current configuration is more recent, it depends on the total reconstruction that the church had in 1640 by the architect Andrea Cirrincione, the façade was built later, in 1726. The style is typically scenographic baroque, the pediment is studded with two high bell towers, on the facade there are also many stucco statues depicting saints and popes, some of these inserted in niches, these statues are the work of Giacomo Serpotta's nephew, Giovan Maria Serpotta. Also on the façade there are twelve columns, arranged in pairs, eight of these frame the central area and the entrance, the other four are placed at the base of the bell towers. The interior is very large and austere in Billiemi stone and inside there are some important works of art from the Baroque period positioned inside niches. There are eight columns on each side, in Tuscan style, which divide the three naves according to a classical scheme.
Property bound pursuant to Legislative Decree 42/2004 (DDG n. 422 of 23.02.15).
There are three crypts at the location of three previous churches
In-depth study: Pietro Todaro: The subsoil of Palermo - 1988. Downloadable at the following ACCADEMIA.EDU address: https://www.academia.edu/6581858/Il_Sottosuolo_di_Palermo
Card insertion: Ignatius Caloggero
Photo: Ignazio Caloggero
Information contributions: Ignazio Caloggero, Web
Note: The populating of the files of the Heritage database proceeds in incremental phases: cataloging, georeferencing, insertion of information and images. The cultural property in question has been cataloged, georeferenced and the first information entered. In order to enrich the information content, further contributions are welcome, if you wish you can contribute through our area "Your Contributions"
Send a notice to the publisher
[contact-form-7 id="18385"]