Cults Myths and Legends of Ancient Sicily
2.4 Adrano
The cult of the god Adrano whose temple was located near the present town of adrano, founded by the tyrant Dionysus in 399 BC, [1] in the vicinity of the ancient sanctuary from which it took its name, can be traced back to the Sicilian period, if not even to the Sican one. The Greeks connected the cult of Adrano to that of Hephaestus and it is precisely for this reason that, while for some the father of the Palici was considered Adrano, for others, however, it was Hephaestus. This does not mean that Adrano should be considered the god of fire, as Hephaestus was for the Greeks and Vulcan for the Romans. The cult of Adrano was probably born as a personification of Mount Etna which, with its majesty, has always dominated the whole island. It is said that the sanctuary was defended by a thousand large dogs, who were meek with visitors to the temple but tore up anyone who entered with the intention of stealing its wealth. [2]
There are not enough elements that allow to identify with certainty the site of this sanctuary. Biagio Pace [3] places it near Mendolito, a town on the left bank of the Simeto river about 8 kilometers north-west of Adrano. In this locality the remains of a stone settlement were found which, by type and some Sicilian inscriptions, could suggest an unknown Sicilian center, and a large bronzes storage room was found, considered among the most important in Italy. starting from the end of the eighth century BC. The abandonment of the Sicilian center, which occurred towards the fifth century BC, is perhaps to be connected with the foundation of nearby Adrano by the Greeks. For some years it has been assumed that Mendolito is not identifiable with the Sicilian Adrano but with another Sicilian city called Piakos[4]. This again reinforces the hypothesis that the sanctuary was in the immediate vicinity of Adrano.
There is also talk of a temple in Adrano in Halaesa [5], and the cult was perhaps also present in the village of Adranon (to be distinguished from the Greek Adrano), located on Mount Adranone and came to light from excavations begun in 1968 [6].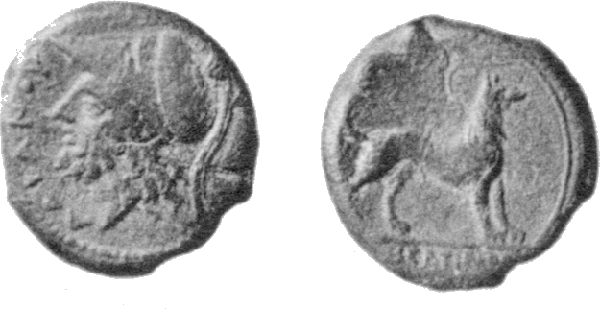 Coin with the face of the god Adrano on the obverse and one of his dogs on the reverse
[2] Giovanni E. Di-Blasi: History of the kingdom of Sicily. vol.I. p.621 [1] Diodorus Siculus lib XIV.37
[3] Biagio Pace: Art and Civilization of Ancient Sicily. Vol. III p. 520
[4] Filippo Coarelli: Archaeological Guides - Sicily pag. 339.
[5] The town of Halaesa was located near Tusa (ME), not far from the sea. It was founded in 403 BC by the Tyrant of Erbita Arconida and was therefore called Alesa Arconida to distinguish it from other cities with the same name.
[6]Filippo Coarelli and Mario Torelli: Sicily p.103.
Ignazio Caloggero
Cults Myths and Legends of Ancient Sicily by Ignazio Caloggero